Data Engineering Coaching


Short Facts
Personal support to learn Data Engineering 
Mentoring while building your Data Engineering project
3 days Starting seminar
12 weeks personal coaching by Andreas
4 Live Zoom meetings every week 6am and 4pm German time
International times: NY -6h, SF -9h, BGL +3.5h
We share your posts on social media
Lifetime access to the Data Engineering Academy
How You Benefit From The Coaching
Become a Data Engineer
Learn Data Engineering to complement your existing knowledge (Especially Data Scientists)
Get better at what you do by learning how to improve your current project
Are you ready for the Coaching?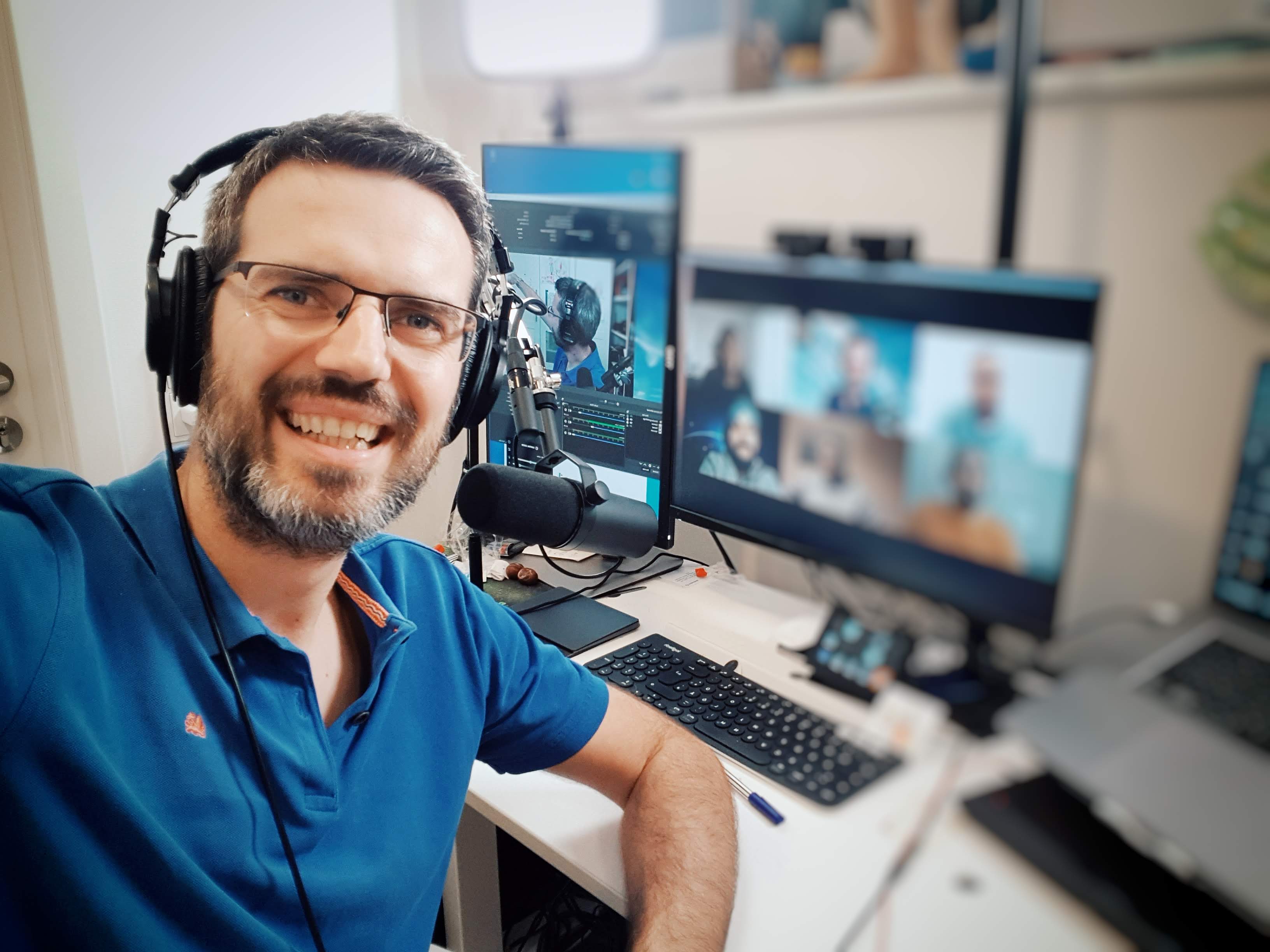 Over Eight Years Corporate Data Science & IoT Experience
14+ Years Computer Science
Data Science Platform Architect
Data Engineer & Engineering Team Lead
LinkedIn Top Voice Data Science & Analytics 2018 & 2019
Diploma In Applied Computer Sciences
YouTuber & Host Of The Plumbers Of Data Science Podcast
Say hello on: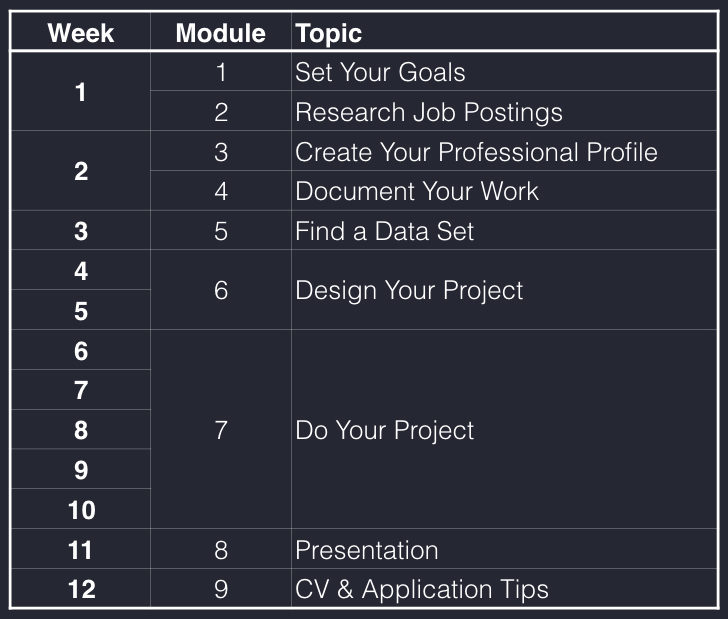 The Coaching uses all modules of the Data Engineering Academy, but guided through Zoom calls
We start with a five day seminar to get you as fast as possible to module seven
Mentoring for documenting your project throughout the coaching
Feedback when you create a presentation after you finished your project (incl. sharing your video)
We work on your CV and cover letter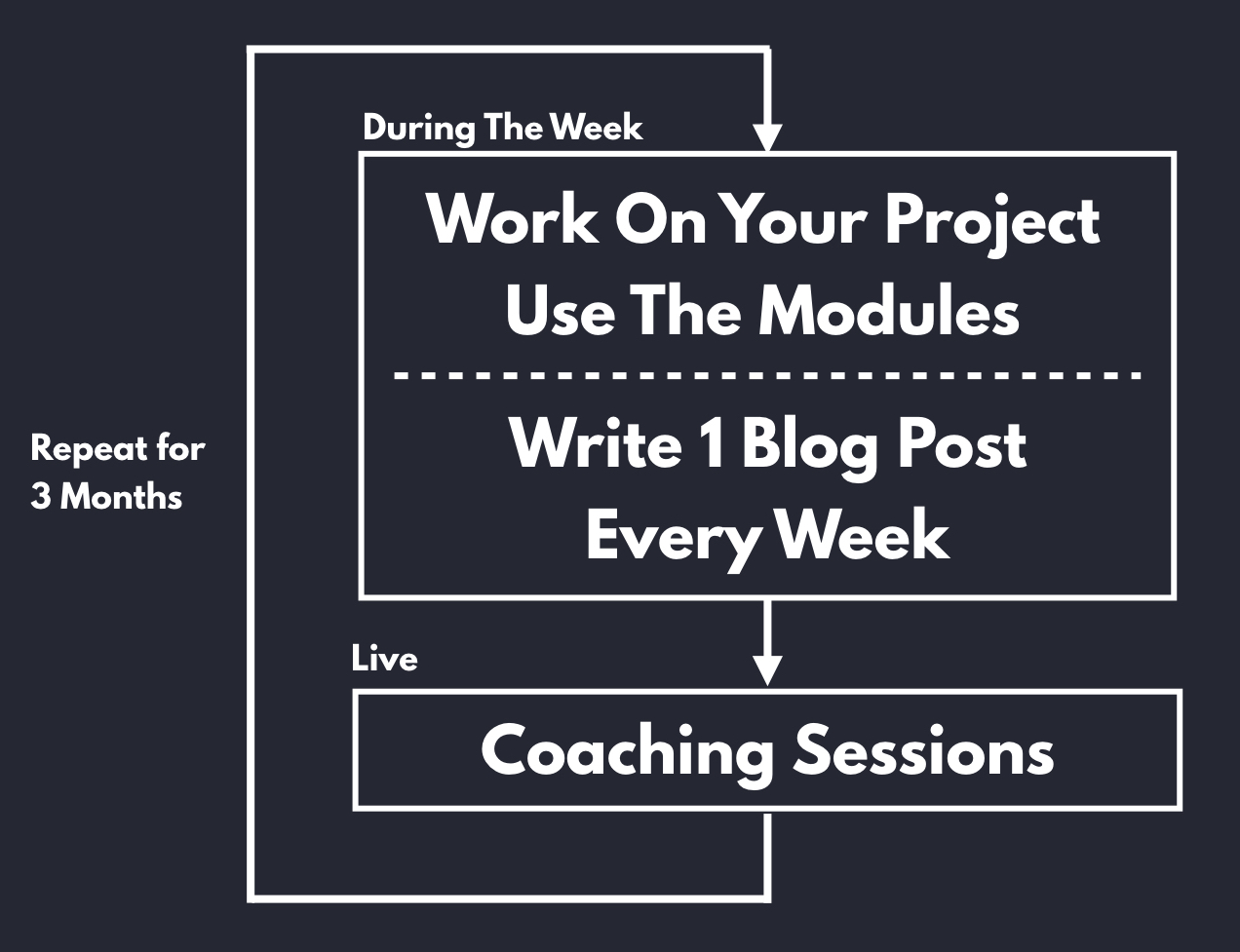 Work on your project throughout the week
Write for the official Team Data Science blog
We share your blog posts on social media to boost your professional profile on social media
Every week we meet on Zoom calls where we plan your project or talk about topics that come up throughout the week
Platforms & Tools
This is a selection of platforms and tools we use often in the Coaching program
Platform
AWS
Azure
GCP
Used in Coaching
Most of the time
Some times
A few times
Data Ingestion
API Gateway
S3 Folders
AWS Glue
API Management
Data Factory
Cloud Endpoints
Message Queues
Kinesis Data Streams
Kinesis Firehose
Event Hub
Pub / Sub
Processing
Lambda
Glue
Functions
Data Factory
Data Flow
Dataproc
Storage
S3
RDS
DynamoDB
Redshift
Athena
CosmosDB

Cloud Storage
BigQuery
Visualization

Power BI


QuickSight (AWS)
Data Studio (GCP)

Other Tools
ElasticSearch, Kibana, MongoDB, Airflow, Docker
Main Languages
Python, SQL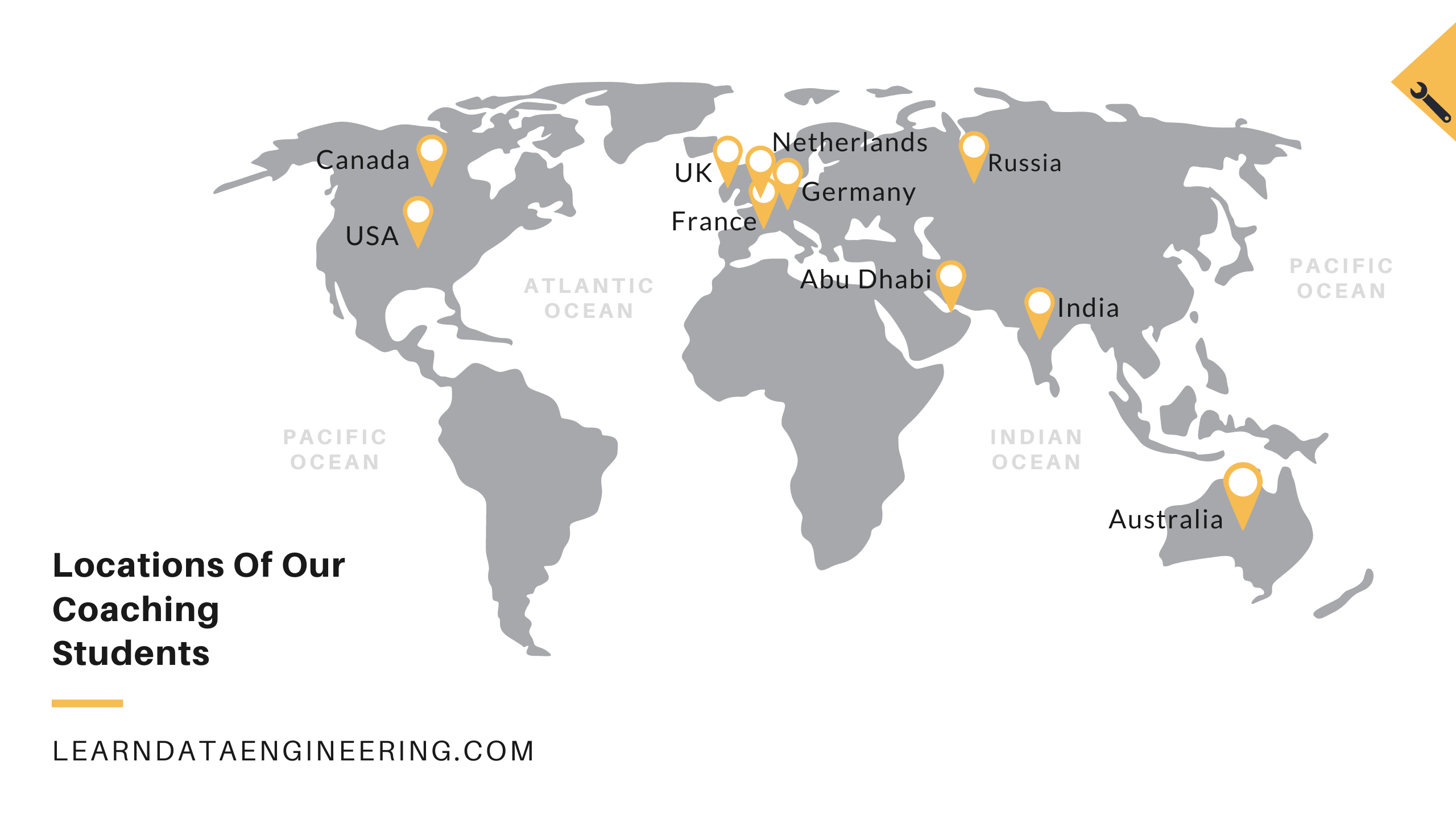 Previous Students We Helped:


Data Scientists
Data Analysts
Cloud Platform Engineers
System Administrators
Database Administrators
E-Comerce Analysts
Student Projects:
COVID-19 Data Analysis
Real Estate Data Analysis
Network Intrusion Detection
Academy Membership Included
Forever free access to our Data Engineering Academy, all courses, live streams and Slack community
Thanks for your interest in the Data Engineering Coaching! The current group is sold out.


The Coaching will be back in September.


Click the button below to get notified when the booking is available again.
Feedback from our students
"Andreas really helped me get into data engineering as a beginner."
David P.
"I totally love the Zoom calls. This way I not only learn from doing my own project, but I can also learn from the other students' project."
Tilek C.
"I found a Data Engineer job within weeks of starting the coaching"
Cathy D.
"During the membership with Andreas, I was able to refine my Data Engineering skills.
I can now quickly identify the tools required for a use case and plan to implement data pipelines."
Prakash D.
"Trough Andreas' support I was able to start my project at work within a few weeks."
Kunal S.
Frequently Asked Questions (FAQs)
What is the Data Engineer Coaching?
The usual process of learning is the following:
You earn a certificate of knowledge - You go to university - You learn computer science - You learn data science tools and techniques
You do online courses to further deepen your knowledge
You do internships
You research job postings and apply
You become a data engineer
--> This is bullshit!!!!
It's way better to reverse engineer the whole process:
You research job postings
You become your own intern by doing a project that uses skills and technologies from those job postings
You create your own certificate of knowledge through documenting your work and building a professional profile
You apply to the researched jobs or jobs just like those, showing off your skills
You become a Data Engineer
I'm going to help you with that in the coaching
How does the coaching work?
In the coaching we go through all the 9 modules of the Learn Data Engineering course within the 12 weeks.
During the week you can join the coaching Zoom calls whenever you want.
In between the calls you:
- Work on the worksheets of the modules or build your project.
- Document your learning in blog posts or videos
- Work on your GitHub
How are the Zoom calls working?
The Zoom calls are group calls. Where you can drop in and off whenever you like.
Before every call you book the session so I know who will be there and can plan ahead.
The goal within the calls is for you to bombard me with questions. I am not going to code your stuff. 
A great thing with the Zoom meetings is that you can connect with the other students and can also hear their questions and learn what they are working on.
Zoom calls are usually around one hour long. Totally depends on how many questions you have.
I record all the calls so I can take interesting bits and put them up in the course for "normal" members. I also put interesting bits from the office hours on my youtube channel for others to learn.
Your face or your personal information will never be shown in the videos. Your voice might be in the video if you ask a great question.
When are the Zoom calls and how often can I attend?
The Zoom calls are usually Monday 6 am and 4 pm German time, as well as Thursday 6 am and 4 pm Germany time. Please check what this means in your time zone.
Within the three months you can attend as many times as you like. Doesn't matter. 
I encourage you to attend as many calls as possible. Even if you are just listening in.
You'll learn with every session.
What will I learn?
Within the coaching you will learn how to do a Data Engineering project that fits to existing job openings in your area. By doing your personal project and documenting it you will learn everything you need to get hired.
Within the project you will:
- Learn how to plan and build a state of the art data science platform.
- Learn how to realize stream and batch processing.
- Gain experience in NoSQL databases. 
- Learn how to realize machine learning and business intelligence into your platform.
- Work with Data Warehouses for Business Analytics use cases
The 9 modules of the Data Engineer Course are helping you step by step through this process. You also learn Data Engineering on AWS with an example project (mini-course).
Mini-courses for Hadoop and GCP are planned later this year.
What is the difference in content between coaching and the academy?
The academy access is included in the coaching. Therefore it has literally the exact same on-demand videos, lessons and worksheets.
In the coaching however, you are not left alone with it.
I help you through the steps and point you in the right direction based on your skills and your future plans.
You profit from my years of corporate data science experience.
Can I upgrade to the Coaching as an Academy member?
Yes, this is no problem!
Just send an email to [email protected] Then you will receive a coupon from us, which reduces the price of the coaching by the price of the annual access to the Academy, which you have already paid.
Is the coaching right for me?
The coaching is right for you:
If you are interested in the plumbing of data science and want to apply it in your future. We have helped many members and coaching students who work as Data Scientist, Data Analyst, Database Administrator, Software Developer as well as graduates who are searching for Data Engineering jobs.
Don't book the coaching:
If you are looking to learn machine learning algorithms.
Is this coaching useful for Data Scientists?
Of course!
Data Scientists often work with data engineers and need to understand Data Engineering tools and techniques. This knowledge can be very beneficial for a job search.
Also many Data Scientists need to do Data Engineering tasks, especially in early stages of a project. Like building a demonstrator for a proof of concept.
Data Scientists often build and maintain platforms and pipelines when there is no dedicated engineering team set up yet.
Please keep in mind though this is an engineering program. You will not learn about machine learning and other pure Data Scientist topics in the coaching sessions.
What basic skills do you recommend for the coaching?
You need:
Basic skills in one programming language. (Preferably Python or Java)
Know what relational databases are how to use SQL and optionally how to build one
How much time to I have to spend a week for the coaching?
Let's be real: You need to spend time on the modules of the coaching. Especially building your project.
Three months sounds long, but it's no joke. You have to work every day on it. 
If you want to spend five hours a week on the training then you will not get very far.
If you want to land a job at top companies like Google, Facebook, Amazon you have to try harder!
I had students who worked many, many hours on their project.
People can see that! Don't underestimate this. 
You need to fully commit to this.
Otherwise you should keep your spot open for someone else.
What do I need to do the coaching?
- You need to speak English
- Time to do a project from home
- Your own computer
- Time to write blog posts and document your work
For the Office Hours you need a microphone and a webcam. 
(I don't want to speak to a black rectangle with a name in it )
How long do I have to complete the course?
The coaching itself takes 12 weeks. During these 12 weeks you will go through your project and can participate in the regular zoom meetings.
After the 12 weeks you will still have access to all materials.
A lifelong access so to speak :-)
You can get in touch with me and the community when ever you want. Just without the Zoom calls.
Can I pay with my employers training budget?
Yes you can! We can create a corporate invoice.
Here's how that usually works. (Check with your employer first)
1. Get the OK from your manager to buy the coaching.
2. Buy the coaching with your credit card or PayPal
3. Send me your full name, company name and address to me via email
4. I'll send you the invoice
5. Send the invoice to your accounting department
6. Get your money back from accounting
That price is quite high get a discount?
No discounts!
I know is a lot of money and hurts. 
IT'S SUPPOSED TO HURT!!
When I started coaching I charged $500 for it.
People were slacking, low motivated. Never came to the sessions or slacked and then expected me to fix their code.
They wasted their time and their money.
But it's worth it, if you are committed to doing the needed work!
I would not put my Name in front of it if this coaching was shit!
Do you give a success guarantee?
Success or job guarantees are a bunch of marketing mumbo jumbo!
Of course there is no guarantee! Especially during these Corona times.
It's all up to you. 
One thing I can guarantee is: If you work hard it will pay off.
You'll see.
Andreas
Where can I get even more information?
If you have specific questions regarding the coaching or the Team Data Science membership, please feel free to contact me directly. Just click here.