The best Data Engineering talents
Good engineers are hard to come by. Especially these days.
That's why we specialise in education AND job placement. This way you know you hire excellent talent.
In our Academy, we support graduate students, people transitioning into Data Engineering as well as professional Data Engineers (Associate & Senior)
Why we represent the best Engineers
This way, we ensure a high level of Data Engineering knowledge

Recruiting only available for our Academy members

Applicants go through our comprehensive Academy courses or 12 week personal coaching program

Course certificates prove member progress and give an overview over learned skills
Superior Data Engineering knowledge
15 years of experience in the Data Engineering field

Created and analysed countless job descriptions before

Experience in interviewing and hiring data talent

Teached over 500 students since started the Academy 
Holistic approach to learn Data Engineering
Our holistic approach ensures that Academy members understand all important facets of Data Engineering and not only a few tools
For this we offer a wide variety of 17 courses from basic Engineering topics to specific tools & major platforms teaching:
Basic

Python

Data Stores (SQL, NoSQL, Data Warehouses & Data Lakes)

Platform & Pipeline Design

Data Modelling

Security

Platforms & Tools

AWS 

Azure 

GCP Data Lake & Data Warehouse

Hadoop 

Apache Spark

Streaming with Kafka

Document & Time Series databases

APIs

Docker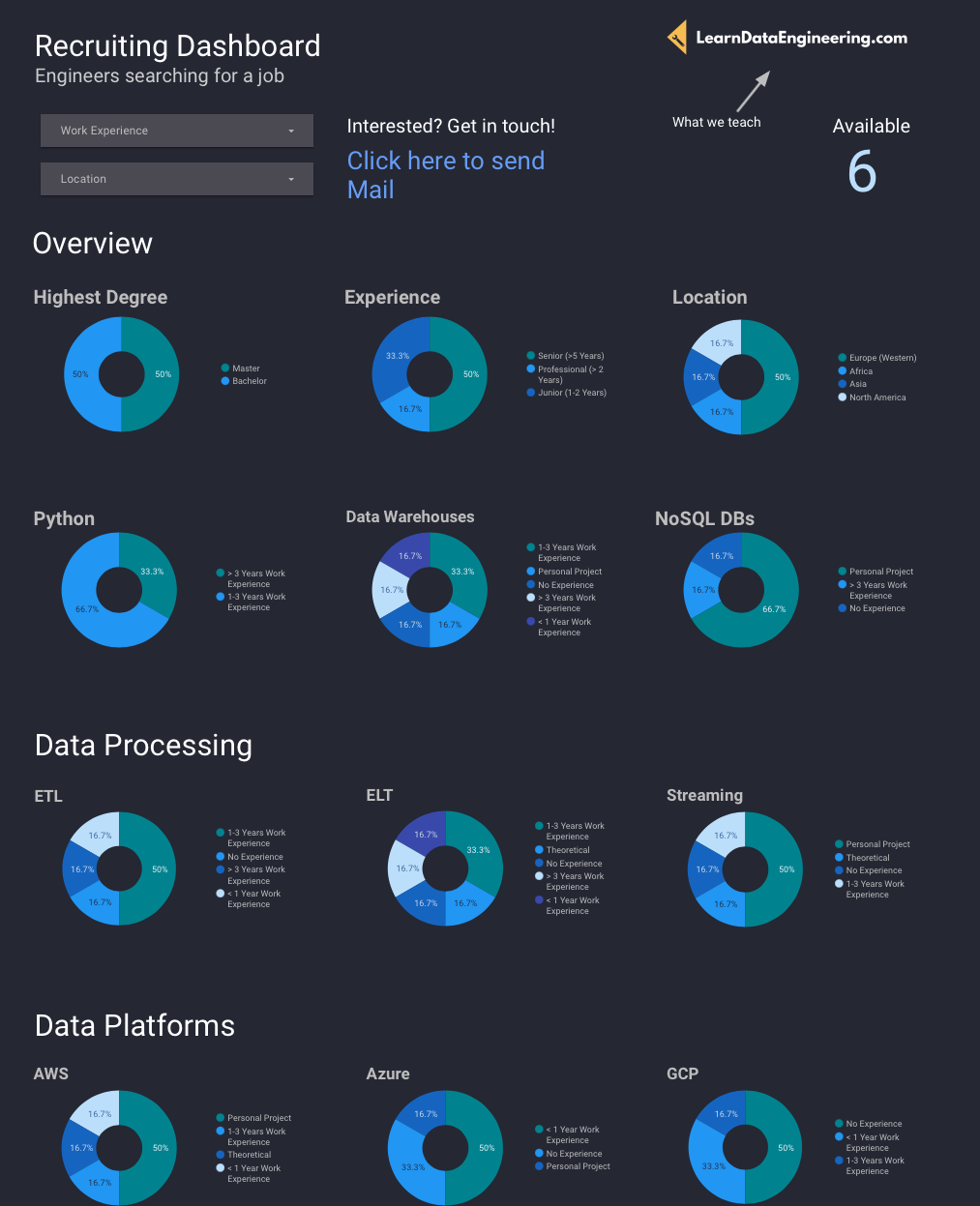 Our members 
Go through Academy courses and earn certificates

Do the certificates

Take the recruiting assessment form

Participate in a personal Zoom call
Examining  your job requirements 
Send us your job description

We do a phone call with you to find out your individual requirements 
We match requirements with available talents in our pool
Your requirements

Over 150 factors

Based on CV
You will get a summary document for each matching person
Overview list of matching skills and potential

Personal summary from interview

Technical applicant potential from interview

Applicants CV
Applicants Dashboard: 
Overview of nr currently available applicants

Overview of skills & levels

Screenshot on page
Take a look: Click here!
Get in touch!
If you are an HR department representative, then just share your information and job description with us. We are happy to work together with you finding the right talent.
Not a member yet? Join the Academy!
FAQs
I am not an Academy member, can I join the Recruiting program?
We want to help ensure a standard of knowledge to companies looking for Data Engineers. That's why the Recruiting is coupled with the academy and only available to members. Just join the Academy, you will 100% benefit from the many hours of education and have access to the Recruiting service.