Associate Data Engineer Certificate
Data Engineering is one of the most exciting and fastest growing professions in the data space right now! Because it's a very large field with hundreds of tools running on very different platforms, experts are not easy to find but the better paid. Professional Data Engineers easily make over $100.000 per year!
So, many companies are looking for professionals with the appropriate know-how. The Learn Data Engineering Academy not only provides you the job-ready skills you need to launch your career as an entry level Data Engineer. With the final Associate Data Engineer Certificate, you can test your skills and prove your knowledge - and finally present companies your experience black on white when applying for a job.
What You Will Learn
Students who go through the Academy courses and earn the Associate Data Engineer Certificate will have extensive knowledge and practical Data Engineering experience in various fields and with different tools. Software Development, using Python, ETL tools and Apache Spark, or creating data pipelines and warehouses are just some of the learning content.
In addition to the courses, you profit from hands-on example projects with which you not only gain practical experience but also enrich your portfolio. Here you can apply your knowledge and skills achieved throughout the course program and demonstrate your ability to perform as a Data Engineer. In combination with the certificate, this will surely get you the job!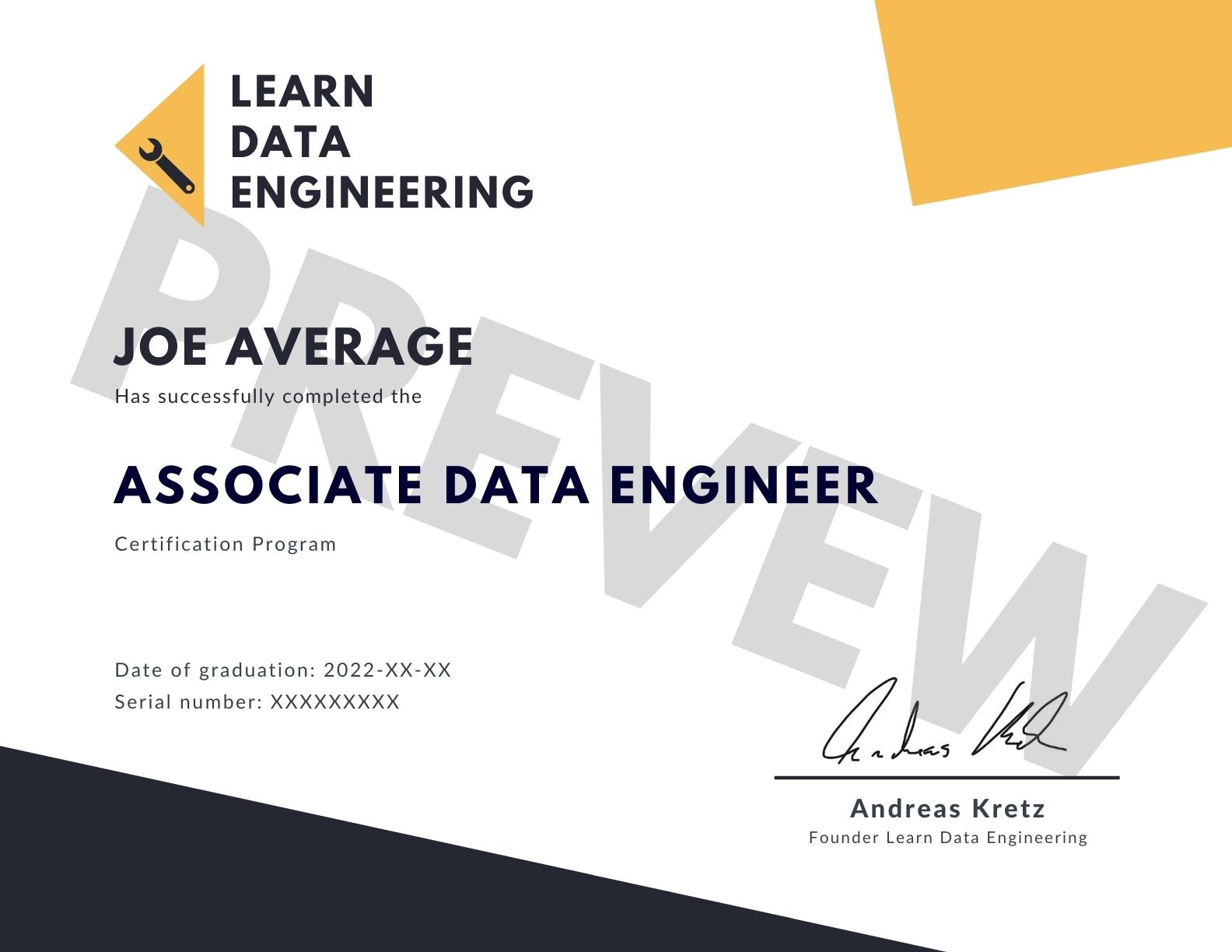 About The Certification
13 individual quizzes
Over 150 multiple choice questions
Just like the Academy, the test is conducted in English
To pass this certification you have to at least get 80% of the questions right
After passing all the quizzes you will be awarded the Associate Data Engineer Certificate which you can download as pdf
What students learn to pass the Certification
Here's a complete list of all the courses students have gone through to achieve this certificate
Start Now!
The Associate Data Engineer Certification is included in our Data Engineering Academy